Hotel "Russkaya derevnya"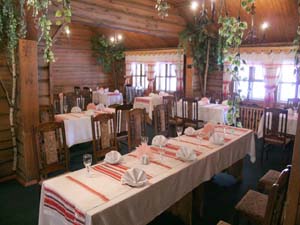 The motel is conveniently situated at the entrance to Vladimir City fr om Moscow sides, 5 km to the center of the city in the picturesque pinewood. There are 3 motel houses (8 double rooms each).
The houses are made of wood and all the rooms are of modern conveniences.
In the central part of the territory of the motel there is reservoir wh ere you can fish in summer or skate in winter.
On the ground floor of the Restaurant there is a trade hall for 100 places, 2 banquet rooms (40 places) and a dining room for 30 places . The first floor has tables for two.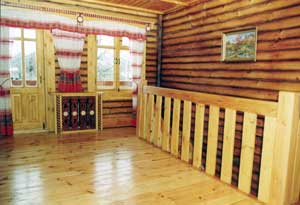 Tuesday to Sunday - live music.
Thu, Fri, Sat - show girls 'Charm'
We are open 8 a.m.- 12 a.m.
Tavern "Okoliza"
Tavern "Okoliza" is also available for the visitors. The interior is made in Russian traditional style.
You'll be pleased not only with the dishes of Russian cuisine but also with Armenian cuisine. There are :
ar
Karaoke
Billiards
We are open 2 p.m. - 2 a.m.
Night Club "Cupid"
This club is situated on the territory of the restaurant. You'll enjoy the appetizers and drinks, magnificent dishes and beautiful music of the club. Every Thursday, Friday & Saturday there is a strip-show. Russian billiards & American pool.
We are open Mon.-Sat. 12 p.m. - 4 a.m.
Sun. 12 p.m.-11p.m.
The show starts at 10 p.m.
Phone: 7(4922) 24-22-62
назад